Below you'll find the past few Spirit of the West Shows.
These links will open the show in Windows Media Player.
If you don't have Windows Media Player click this link to download it.
Download Windows Media Player
---
The current show - #21448 Weekend of November 29th, 2014: The Spirit of the West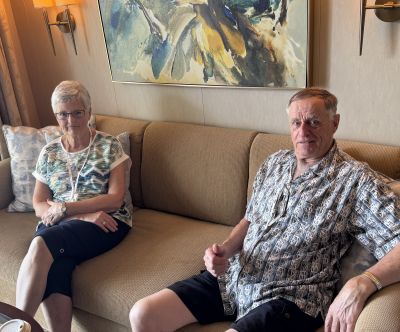 Hugh with the guy they call "America's Most Trusted Horseman", John Lyons.

The well known horseman John Lyons is Hugh's guest this week. He talks about how going broke on a cattle ranch led him into the horse clinician business and he has some great stories about horses and his family. The music on this show is exceptional, the Rangeland news has uncovered some breaking stories and Baxter Black has a real life adventure you won't want to miss.
---
Show - #21447 Weekend of November 22nd, 2014: Show - #21447

Hugh's roan mare Cody is developing into one of the top horses at the McLennan ranch.

A legend of Rodeo, ranching and music, Larry Sands joins Hugh this week to talk about some of the wild times he had as a young fella growing up in a world of mountains, rivers, horses and cattle. Baxter Black makes a pointed rebuttal to critics of agriculture with some great examples of how ranching is good for the environment. USDA Agriculture secertary Vilsack shares thoughts on the "COOL" controversy and Hugh shares an item from the un spoken cowboy code on the Horse Training File.
---
Show - #21446 Weekend of November 15th, 2014: Show - #21446

Scot Purdum, Dale Clearwater and Brandi Lyons each share a spectacular story on this week's show. We've uploaded some neat video footage for you to watch in your Windows Media Player as you listen to this week's show.

Some of the spectacular adventures folks who live the ranching life have come to life on this show. Brandi Lyons, daughter of famous horse trainer John Lyons, shares the story of a mare giving birth inside her trailer on a long trip across the country, Dale Clearwater describes one of his rare buck offs, and Scott Purdum got an amazing surprise working with a problem horse. This show has great music and valuable information to keep you ridin' along.
---
Show - #21445 Weekend of November 8th, 2014: Show - #21445

Hugh on Lucky and Drover boss Charlie Coldwell on one of the famous
Kamloops Cattle Drives like the one Ernie Dobson remembers on this show.

After a gruelling day trying to move contrary cattle in 100 degree heat Hugh sat down and recorded a conversation Ernie Dobson. They were working together on a cattle drive in 1994 and you'll hear about this adventure and several more they've had since. You'll hear the real music of today's working cowboys from Texas to Northern B.C. along with this week's classic song of the west and the story behind it. Baxter Blacks real life story of an event on a ranch in B.C. is not to be missed and Hugh has some valuable horse training advice that could keep things safer for you and your horse.
---
Show - #21444 Weekend of November 1st, 2014: Show - #21444

The cowboy poetry spotlight this week has great narrations of the Classic
"When They've Finished Shippin' Cattle In The Fall"

With record high prices for calves and yearlings this fall its's crucial for ranchers to get some wise advice from financial experts and this week Hugh brings in Bruce Tate, vice president of Agriculture for MNP to share some real life case histories and look at how to best make use of your income. There's some really special music and a very interesting horse training file as well as the Rangeland News to keep you entertained and informed.