Below you'll find the past few Spirit of the West Shows.
These links will open the show in Windows Media Player.
If you don't have Windows Media Player click this link to download it.
Download Windows Media Player
---
The current show - #21512 Weekend of March 21st, 2015: The Spirit of the West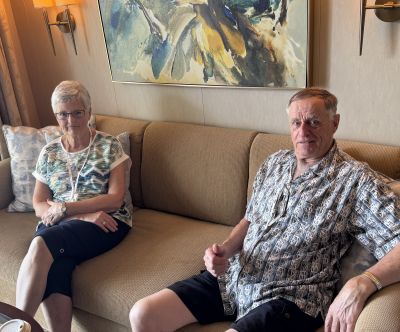 Hugh's guest this week the beloved balladeer Don Edwards

This week a legend in the world of western music shares his life his thoughts and his passion for the traditions. The one and only Don Edwards talks about where much of his inspiration comes from. With cattle prices at record highs, some ranchers feel like they can't afford to eat their own beef, so Baxter Black has come up with some great ideas for cooking up everything from saddle leather to fan belts from his cowboy's vegetarian cookbook. There's great music and horse training advice and much more this week.
---
Show - #21511 Weekend of March 14th, 2015: Show - #21511

The songs this week reflect calving time on ranches of the west.
Billie took this shot of Hugh & Cody moving the mothers and new calves

This week one of the funniest story tellers in the west, Curt Brummet is back with more true life adventures, you'll hear 3 different songs with the same title, all of them about calving time, Baxter Black reports on a big explosion triggered by gas escaping from a bloated cow and Hugh helps a rider with a question on the Horse Training File.
---
Show - #21510 Weekend of March 7th, 2015: Show - #21510

Jack Daines, a legend in the livestock business and the world of rodeo gives his
thoughts on the fall cattle markets. Jack is seen here telling one of his
hilarious stories to the Spirit of the West Cruise gang a few weeks ago.

This week's show is full of information and entertainment. The Rangeland News has the latest of the Country of Origin Labelling issue with the hint of a compromise from the U.S. Agriculture Secretary. Jack Daines looks at how cattle producers should prepare for the coming year and an Australian tour guide shares some amazing and true stories. You'll hear a rare recording of a classic Australian Cowboy song from the legendary Slim Dusty and much more.
---
Show - #21509 Weekend of February 28th, 2015: Show - #21509

Joanne Wallace, daughter of Jack & Audrey Daines recording some
stories from the Diamond Princess Cruise Ship for this show.

This week Joanne Wallace share some stories of growing up in a world of cowboys, horses and rodeos, Tim Williams has a hillarious story that led to one of his finest songs and Baxter Black looks at what goes on behind the scenes between the cattle buyers and auctioneers on sale day. The Horse training file brings you the truth behind some long - held myths about horses and the music will keep you hummin' along for another hour of great radio.
---
Show - #21508 Weekend of February 21st, 2015: Show - #21508

A few months till the brandings get underway, but it's time to limber up the roping arm.

Ranch Cowboys and Rodeo cowboys share a lot of common values and this week former bronc rider Billy Lowery joins Hugh to talk about great horses, great bronc riders and rodeo cowboys who were good pickers and singers. You'll hear songs from Chris Ledoux, Mel Hyland, Larry Sands and Doug Supernaw as well as a long lost classic song of the west and lots of good and useful information.