Below you'll find the past few Spirit of the West Shows.
These links will open the show in Windows Media Player.
If you don't have Windows Media Player click this link to download it.
Download Windows Media Player
---
The current show - #21416 Weekend of April 19th, 2014: The Spirit of the West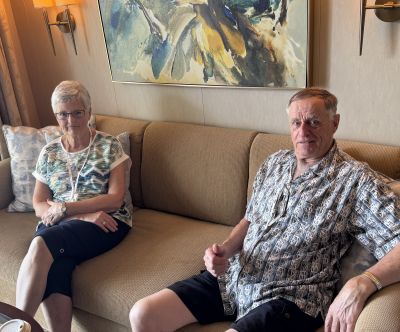 For more on cowboy poetry week look in on www.cowboypoetry.com

This week Hugh visits with long time rancher and cowboy Dale Thompson. He's back home after spending most of the winter at remote isolated ranch a long ways from anywhere without power, water, radio or cell service. He was joined by about 200 mother cows as the winter went on and he'll share some of that experience. You'll get a chance to guess what TV show this weeks classic song of the west came from and keep on top of things with the Rangeland News, Baxter Black, the Horse training file and some great cowboy poetry.
---
Show - #21415 Weekend of April 12th, 2014: Show - #21415

Ryan Fritz, he's the real deal

Two top hands share more of their big outfit cowboy adventures this week. Ryan Fritz and Fred Feistmann have peformed life-saving surgery on cows on frozen side hills and lived in remote camps where they bring in their supplies by pack horse. Baxter Black analyzes present cattle prices and the Rangeland News examines a big concern facing Canadian Cattlemen. There's another beautiful classic song of the west and some history behind it as well as horse training advice and more.
---
Show - #21414 Weekend of April 5th, 2014: Show - #21414

Fred Feistmann, seen here with Hugh at a Lloyd Creek Branding, rode some pretty adventurous trails with his partner Ryan Fritz at some of the biggest ranches west of the Rockies.

Two top hands who spent quite a few years riding together at some of the biggest ranches in the west visit the McLennan Ranch studio to swap some amazing stories and they are all true. Ryan Fritz who is also a fine singer and song writer recalls thing like cutting his partners hair with a jack knife. His partner is Fred Feistman, now a very successful wealth management professional. You'll hear the song that saved a classic western movie from obscurity along with a great selection of pure western music. Cowboy poetry, Baxter Black and the Rangeland News will keep you informed and entertained.
---
Show - #21413 Weekend of March 29th, 2014: Show - #21413

First calf born on the McLennan Ranch this spring, and Mom's bringing the nice little heifer up to the feed ground.

This week the conversation runs from boarding a commercial airline flight packing two real six guns to a comparison between football in the U.S. and Canada. Some real life stories involving cattle horses and a few wrecks along with some of best pure western music heard anywhere. It's an entertaining hour of great radio you won't want to miss.
---
Show - #21412 Weekend of March 22nd, 2014: Show - #21412

Lots of music this week that will make you want to saddle up and head over the hill

This week you'll hear some amazing stories from a rancher who arrived in North America after the war with $40.00 in his pocket. He followed his cowboy dreams and built two successful ranching operations and had some incredible adventures along the way. You'll hear a song that suggests a well known Western Singer should run for president and then find out more about him in the Cowboy Poetry Spotlight. Hugh helps a rider prepare his horse of their first trip to the mountains and you'll loved the music on this show.