Below you'll find the past few Spirit of the West Shows.
These links will open the show in Windows Media Player.
If you don't have Windows Media Player click this link to download it.
Download Windows Media Player
---
The current show - #21547 Weekend of November 21st, 2015: The Spirit of the West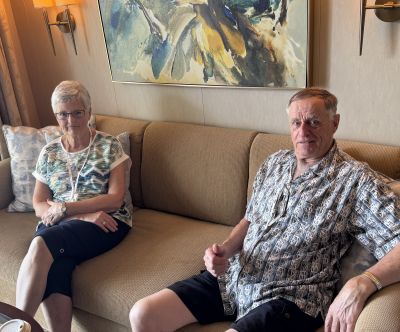 Hugh's guest Glenn Stewart returns this week.

The Master Horseman Glen Stewart is back this week to swap stories of real life cowboy adventures and explain how he came to own one of his finest horses. There's an epic cowboy poem about 2 down on their luck rodeo cowboys and a car trunk full of live ducks, Baxter Black has another entertaining commentary, there's the Rangeland News, Horse Training help and the kind of music that will stay in your mind all week long.
---
Show - #21546 Weekend of November 14th, 2015: Show #21546

Hugh's guest this week is Glenn Stewart.

This week Hugh visits with an outstanding horseman who shares a lifetime of adventures. Glen Stewart recently won the Trainer's Challenge at the Mane Event Horse expo and he grew up horseback on the rugged northern range. Baxter Black examines the disconnect between purebred breeders and order buyers, the Rangeland News looks at developing issues and there's great music including a beautiful Classic song of the west.
---
Show - #21545 Weekend of November 7th, 2015: Show #21545

Hugh's guest this week is Ed Stabler (left)
pictured here with Hugh and Gary Fjellgaard (right).

This week Hugh brings you a great conversation with his Texas friend Ed Stabler. Ed's a good horseman and a fine musician and they've ridden a few trails together both at Ed's ranch in Texas and at the McLennan Ranch. Curtis Anderson, a genuine Canadian Hero shares a special piece of Cowboy poetry and Baxter Black has a great story about what a lot of ranch wives go through at this time of year.
---
Show - #21544 Weekend of October 31st, 2015: Show #21544

Hugh's guest R.J. Vandygriff returns this week.

The talented Texas Top hand, actor and singer R.J. Vandygriff is back this week with a true story about riding a pretty broncy horse through the set of big budget TV commercial and to share more of his great music. Baxter Black has a very relevant cowboy commentary, Hugh has practical horse training advice, there's Rangeland News and a fitting piece of cowboy poetry to keep you ridin' close.
---
Show - #21543 Weekend of October 24th, 2015: Show #21543

One of Hugh's guests this week is Ivan Daines shown
here to the right of Hugh and Hugh's brother Jim.

An information packed show this week. Hugh brings back more of that great interview recorded with the late Jimmy Don Cox who shares stories of movie stars and their horses. Some wonderful music, Baxter Black's cowboy commentary, cowboy poetry and a classic song of the west and much more.