Below you'll find the past few Spirit of the West Shows.
These links will open the show in Windows Media Player.
If you don't have Windows Media Player click this link to download it.
Download Windows Media Player
---
The current show - #21451 Weekend of December 20th, 2014: The Spirit of the West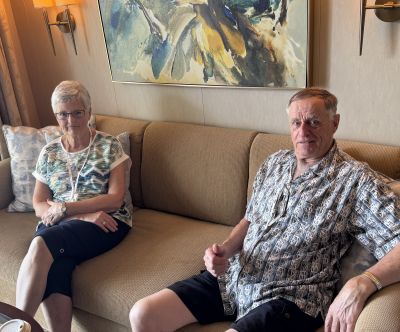 It was all Cody could do to pull this tree in from the pasture.
Billie said it might be a bit too big for the house but Hugh made it fit.
You'll see lots of Billie's great photos on the webcast of this show.

This week it's a Spirit of the West Christmas special with a saddlebag full of the kind of Christmas music you don't get to hear anywhere else, songs about Christmas on the range. You'll hear some classic Christmas Cowboy Poetry and some of the best work of men and women of the west. The show closes with a wonderful story of a cowboy and a broncy horse and how they made one Christmas very special for a ranching family.
---
Show - #21450 Weekend of December 13th, 2014: Show - #21450

We brought the last of the cows home and started them on feed.
The snow has all melted since Bllie took this picture.

A ranching and rodeo legend, Larry Sands is back with more stories this week and you'll hear several songs about Christmas in Cattle country along with a beautiful piece of cowboy poetry about a ranching family that will really get those Christmas feelings flowing. A quiet gentle ranch horse bucked his rider off and Hugh explains why on the Horse Training file and Baxter Black discusses the on going debate between nutritionists and vets.
---
Show - #21449 Weekend of December 6th, 2014: Show - #21449

Hugh & long time neighbour Ken had just gathered a nice bunch of cattle for sorting and shipping. Cody, Hugh's good mare did a great job sorting in close quarters, but somehow Hugh's leg, boots, saddle, and Cody's side had to undergo a thorough cleaning after a cow left a big deposit. You can see close up on Hugh's Facebook page.

The guy known as America's Most Trusted Horseman John Lyons returns this week with special memories of his famous horse "Bright Zip". You'll hear a long lost classic song of the west and the story behind it along with several songs that will keep running through your mind for days to come. Baxter Black looks at an urban rural conflict and the Rangeland news has information you can use.
---
Show - #21448 Weekend of November 29th, 2014: Show - #21448

Hugh with the guy they call "America's Most Trusted Horseman", John Lyons.

The well known horseman John Lyons is Hugh's guest this week. He talks about how going broke on a cattle ranch led him into the horse clinician business and he has some great stories about horses and his family. The music on this show is exceptional, the Rangeland news has uncovered some breaking stories and Baxter Black has a real life adventure you won't want to miss.
---
Show - #21447 Weekend of November 22nd, 2014: Show - #21447

Hugh's roan mare Cody is developing into one of the top horses at the McLennan ranch.

A legend of Rodeo, ranching and music, Larry Sands joins Hugh this week to talk about some of the wild times he had as a young fella growing up in a world of mountains, rivers, horses and cattle. Baxter Black makes a pointed rebuttal to critics of agriculture with some great examples of how ranching is good for the environment. USDA Agriculture secertary Vilsack shares thoughts on the "COOL" controversy and Hugh shares an item from the un spoken cowboy code on the Horse Training File.