Below you'll find the past few Spirit of the West Shows.
These links will open the show in Windows Media Player.
If you don't have Windows Media Player click this link to download it.
Download Windows Media Player
---
The current show - #21438 Weekend of September 20th, 2014: The Spirit of the West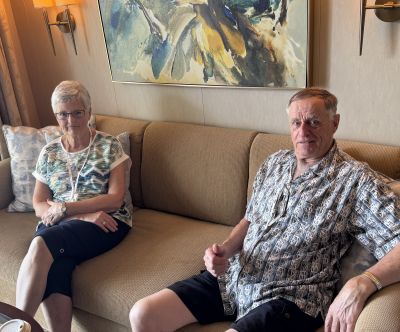 This picture of Hugh climbing aboard "Stanley" at the Ivan Daines Country
Music Picknik kind of illustrates the great piece of Cowboy Poetry you'll
hear on this show. It's all about "Creaky Old Cowboys!

This week Hugh visits with another living legend. Hank McEwan left home to be a cowboy at the age o 16. Today at the age of 84, he's still riding, shoeing horses, fixing fences and cutting firewood. His stories are spellbinding and he's an inspiration to all of us. The music is outstanding on this show and it all wraps up with an unforgettable piece of cowboy poetry.
---
Show - #21437 Weekend of September 13th, 2014: Show - #21437

The fall roundup is underway. Hugh on Cody and they think they've spotted
cattle up on the mountain. The other rider is Vic Piva on his good mare Jubilee.

This week Hugh visits with a long time working cowboy who's highly respected by his peers. You'll hear how and why he had to learn to rope with either hand, how he prefers to doctor cattle on the range by himself and the music and conversation will share a lot of insight into the real world the top hand live in. Baxter Black explain how travelling all over the U.S. and Canada is a challenge he has found ways to cope with. There's a masterful piece of Cowboy poetry a look at another classic song of the west and much more.
---
Show - #21436 Weekend of September 6th, 2014: Show - #21436

Hugh & Stanley moving some pairs. These McLennan Ranch calves will be selling at the
BC Livestock co-op fairly soon. Hope they'll pay some bills.

This week Hugh's guest is a country music legend, as a singer song writer producer and label owner. R. Harlan Smith is the son of a good working cowboy, he was raised with horses and cattle and he'll share some fascinating stories about his dad, and his life in the business of country music. Valuable horse training advice, Rangeland News the amazing story behind another classic song of the west round out this hour of great listening.
---
Show - #21435 Weekend of August 30th, 2014: Show - #21435

George telling Hugh this amazing story at the Ivan Daines Country Music Pickinic
where he was one of the judges for the Canadian Natural Horsemanship contest.

Buster was an amazing horse who escaped to the wild, had a personality changed and came back to save his long lost owner from a tough situation. You'll hear his true from his owner George Hanson this week along with a collection the best of the new and classic songs of the west. Dale Page recites a piece of poetry that will strike a chord deep inside anyone who love the west, Baxter Black and the Rangeland news make this another hour of great radio.
---
Show - #21434 Weekend of August 23rd, 2014: Show - #21434

Hugh on Stanley doing the commentary and helping Corey McAlister get his colt moving forward at the recent Ivan Daines Country Muisc Picknic and Horse training championships. More about that on next week's show.

From the famous King Ranch to the Texas panhandle, some legendary Texas cowboy talk about their love for the cowboy life and the horses they live it with. The music is outstanding this week and the Baxter Black's cowboy commentary and Hugh's Horse Training file along with the Rangeland news make it another hour of great radio.