Below you'll find the past few Spirit of the West Shows.
These links will open the show in Windows Media Player.
If you don't have Windows Media Player click this link to download it.
Download Windows Media Player
---
The current show - #21515 Weekend of April 11th, 2015: The Spirit of the West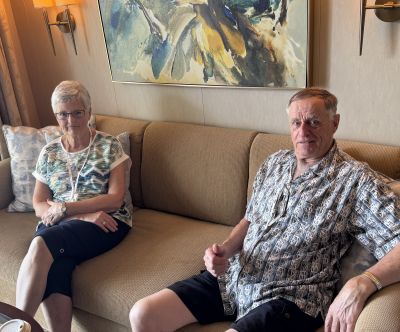 This week's guest Charlie Ewing

Rancher, singer, song writer Charlie Ewing is back this week to discuss everything from the buckaroo influence on northern ranches to lonely life of a line rider and you'll hear more of his great songs. Hugh shares some of the trade secrets of the top hands that makes working cattle from horseback better for all concerned. Montana Rancher Jim Hamilton has a terrific piece of cowboy poetry and you'll hear the fascinating story behind another classic song of the west.
---
Show - #21514 Weekend of April 4th, 2015: Show - #21514

Hugh interviewing Carol Heuchan at the Kamloops Cowboy Festival

A fascinating guest with a gift for story telling and a lifetime spent in horse industry, Carol Heuchan (Pronoucned HewCan), some unforgettable western music, and a terrfic story from Baxter Black will keep you riding close this week. There's some practical advice for the rider if a horse refuses to go past an obstacle on the trail and the Rangeland News has the latest from the world of cattle, horses and agriculture.
---
Show - #21513 Weekend of March 28th, 2015: Show - #21513

Hugh and Charlie Ewing having a visit at the recent Kamloops Cowboy Festival

This week Hugh's guest is a second generation rancher, good cowboy and a fine singer and song writer. Charlie Ewing shares his thoughts about horses, cattle and western music in a fascinating conversation. You'll hear his songs along with several songs of the modern west and an old classic with a fascinating story behind it. The Winner of the Spirit of the West Rising star showcase is featured in this week's cowboy poetry spotlight.
---
The current show - #21512 Weekend of March 21st, 2015: Show - #21512

Hugh's guest this week the beloved balladeer Don Edwards

This week a legend in the world of western music shares his life his thoughts and his passion for the traditions. The one and only Don Edwards talks about where much of his inspiration comes from. With cattle prices at record highs, some ranchers feel like they can't afford to eat their own beef, so Baxter Black has come up with some great ideas for cooking up everything from saddle leather to fan belts from his cowboy's vegetarian cookbook. There's great music and horse training advice and much more this week.
---
Show - #21511 Weekend of March 14th, 2015: Show - #21511

The songs this week reflect calving time on ranches of the west.
Billie took this shot of Hugh & Cody moving the mothers and new calves

This week one of the funniest story tellers in the west, Curt Brummet is back with more true life adventures, you'll hear 3 different songs with the same title, all of them about calving time, Baxter Black reports on a big explosion triggered by gas escaping from a bloated cow and Hugh helps a rider with a question on the Horse Training File.