Below you'll find the past few Spirit of the West Shows.
These links will open the show in Windows Media Player.
If you don't have Windows Media Player click this link to download it.
Download Windows Media Player
---
The current show - #21349 Weekend of December 7th, 2013: The Spirit of the West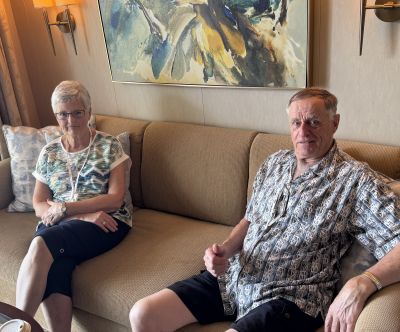 Riding your horses and helping them get better can be done in the winter.
Theres more about how to go about it on this week's Horse Training File.

A memorable collections of stories this week, from a big Belgian Colt who wound up sitting on the wagon seat with the teamster to a wonderful surprise waiting in the barn Christmas morning. Don Kennington has a hilarious cowboy poem to go with a smooth easy listening list of the best music in the west. The Rangeland News has some surprising developments and there's valuable horse training advice too.
---
Show - #21348 Weekend of November 30th, 2013: Show - #21348

Jay Snider, Hugh's guest this week

This week Hugh visits with an Oklahoma horse and cattle rancher Jay Snider, a guy with a real gift for telling stories and putting everyday events into spellbinding cowboy poetry. The classic song of the west segment digs up some amazing information on a song that was passed down by cowboys along the trail drives and around the campfires. There's valuable information on the Rangeland news, good horse training advice and some wonderful music too.
---
Show - #21347 Weekend of November 23rd, 2013: Show - #21347

"Come on Hugh, it's not THAT cold!" Billie on Lucky heading out
to gather cows and calves for weaning, just a couple of weeks ago.

Kevin Davis is a charming cowboy from Oklahoma. He has a great way with horses and cattle and with his guitar and songs. He shares both on this show. Baxter Black describes in graphic detail what happened when a ranching couple tackled a skunk. This week's music list is especially with songs from Kevin Davis, Chris LeDoux, Marshall Veal and Don Edwards. Then there's cowboy poetry as Gerald Miller recites one of his own that will hit close to home for any married couples who've sorted cattle together.
---
Show - #21346 Weekend of November 16th, 2013: Show - #21346

Neil Jahnke seen here with Hugh at a cattle industry function left us a lot to remember him for.

Last November well known cattlemen, rancher and cattle industry icon Neil Jahnke passed away. This week Hugh brings back a conversation he had with this beloved legend of the west back in 2004. You'll hear how being true to his cowboy roots helped Neil convince the Japanese to buy more North American beef and his thoughts on how U.S. and Canadian ranchers can use what they have in common to make the industry stronger. Hugh introduces some new contemporary songs of the west from some fast rising young stars and looks at the story behind an old cowboy classic. Theres' valuable horse training advice, rangeland news and much more this week.
---
Show - #21345 Weekend of November 9th, 2013: Show - #21345

Kerry Kuhn makin a ride at the 2013 Chilliwack Mane Event Trainers Challenge. (Photo by Mark McMillan)
We have some great visuals with this weeks show, especially with our Classic song
of the west segment, so make sure you check your Windows Media player video screen.

3 Great trainers, 3 outstanding young horses. This week Hugh visits with B.C.'s Caley Wilson, Australia's Paul Clarkson and Kansas Cowboy Kerry Kuhn, who were featured in the latest Mane Event Trainer's Challenge. You'll find out who the winner was and hear some amazing adventures from all 3 of them. You'll hear the story behind a classic song of the west and we'll bring back the memorable closing theme from the movie it came from. The Rangeland News looks at a recent development that has cattlemen very concerned and Baxter Black has another riveting story of ranch life.