Below you'll find the past few Spirit of the West Shows.
These links will open the show in Windows Media Player.
If you don't have Windows Media Player click this link to download it.
Download Windows Media Player
---
The current show - #21509 Weekend of February 28th, 2015: The Spirit of the West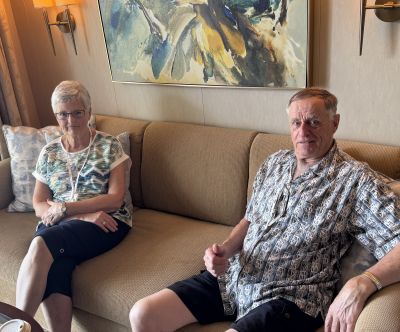 Joanne Wallace, daughter of Jack & Audrey Daines recording some
stories from the Diamond Princess Cruise Ship for this show.

This week Joanne Wallace share some stories of growing up in a world of cowboys, horses and rodeos, Tim Williams has a hillarious story that led to one of his finest songs and Baxter Black looks at what goes on behind the scenes between the cattle buyers and auctioneers on sale day. The Horse training file brings you the truth behind some long - held myths about horses and the music will keep you hummin' along for another hour of great radio.
---
Show - #21508 Weekend of February 21st, 2015: Show - #21508

A few months till the brandings get underway, but it's time to limber up the roping arm.

Ranch Cowboys and Rodeo cowboys share a lot of common values and this week former bronc rider Billy Lowery joins Hugh to talk about great horses, great bronc riders and rodeo cowboys who were good pickers and singers. You'll hear songs from Chris Ledoux, Mel Hyland, Larry Sands and Doug Supernaw as well as a long lost classic song of the west and lots of good and useful information.
---
Show - #21507 Weekend of February 14th, 2015: Show - #21507

One of the funniest story tellers in the West, Curt Brummet, this week's guest.

An old cowboy obsessed the challenge of capturing one wild cow that haunted him for years spins out the story with all its dramatics this week. The legendary story tell Curt Brummet had folks hanging on his every word with this amazing adventure. There's several great songs about cowboy life and another winning piece of Cowboy Poetry to go along with Baxter Black's story about a ranch wife who was a better hunter than most of the men on the place.
---
Show - #21506 Weekend of February 7th, 2015: Show - #21506

Busy day in the McLennan Ranch World Broadcast Center.

This week you'll hear some wild and wolly stories from the remote ranching region known as the Chilcotin. From driving cattle 15 days to the Markets, to runnaway wagons there are some colorful but true events Hugh's guest will describe. Baxter Black explains why he doesn't want a tractor and there's a great poem about horse people and hay growers. Some terrific music will keep you paying attention to this one.
---
Show - #21505 Weekend of January 31st, 2015: Show - #21505

Cody fitted with a bosal in her progress to becoming a bridle horse.
The horse training file looks at the bond between a cowboy and his horse.

The adventures working cowboys find themselves in make great material for cowboy cartoonists. This week Hugh visits with a cartoonist and a cowboy who is also a fine singer. There's a pleasing mix of contemporary and classic music of the west and some breaking stories on the Rangeland News. Baxter Black and the Horse Training File will keep you close to your radio this week.