Below you'll find the past few Spirit of the West Shows.
These links will open the show in Windows Media Player.
If you don't have Windows Media Player click this link to download it.
Download Windows Media Player
---
The current show - #21520 Weekend of May 16th, 2015: The Spirit of the West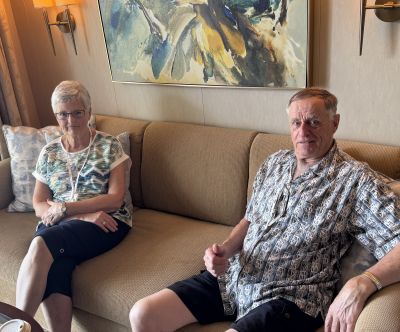 Ron Hoffman sharing stories with Hugh for this show.

Ron Hoffman has been A Feedlot rider, colt starter, pasture rider and contractor, Farm Credit Program employee, and a rancher. And he's Program Head of Western Ranch and Cow Program at Lakeland College. He's also a judge for the Mane Event Trainers challenge and he shares some wonderful stories this week. You'll hear the debut of two of the best new contemporary western cd's and a classic song of the west with an interesting story as well as valuable horse training advice and some heart warming cowboy poetry.
---
Show - #21519 Weekend of May 9th, 2015: Show - #21519

Little Horse with a Big Heart. Hugh & Stanley at the DL Branding last weekend.

3 great horse trainers share some their secrets and experience this week as Hugh visits with Katari Cowley, Patrick King and T.J. Cliburn. The all were amazing at the recent Red Deer Trainer's Challenge. The music this week focus on good horses and the songs will be running through your mind all week. There's Rangeland News, Baxter Black, and a classic song of the west as well.
---
Show - #21518 Weekend of May 2nd, 2015: Show - #21518

Hugh interviewing Jim & Jeannie Martin in Fort Worth.

This week a couple of western music's finest entertainers, Jim and Jeannie Martin share some of their road stories and some of their fine western harmony. Baxter Black vividly describes a calving episode that tests a cowboy's resolve, the Rangeland News looks at how the U.S. Agriculture Secretary handled a protest against animal Agriculture and Hugh unveils a mystery in the classic song of the west segment.
---
Show - #21517 Weekend of April 25th, 2015: Show - #21517

This week's show is special...you'll hear a great song from Rusty Richards and a classic song of the West from Johnny Western. This is Rusty, Billie, Hugh & Johnny in Arizona a few years back.

This week Hugh visits with Ernie Sites, a fine entertainer and cowboy from Idaho. They'll discuss the buckaroo traditions and the regional differences in how cowboys from different parts of the west do the job. Two Western Music Legends, Rusty Richards and Johnny Western will have songs that you'll love and Baxter Black looks at the hundreds of uses for duct tape. Hugh discusses how long it usually takes to develop a solid ranch horse and there's a piece of cowboy poetry that will have you laughing all week.
---
Show - #21516 Weekend of April 18th, 2015: Show - #21516

Hugh Interviewing Lewis Bowman in Tucson several years ago

Lewis Bowman was a walking encyclopedia of the west, his uncle was rodeo legend Everett Bowman. We lost Lewis a while back and this week Hugh brings back a memorable conversation he had with Lewis and it's full of great stories and lots of cowboy logic. There's a very listenable line up of music, some valuable horse training advice, Rangeland News and much more on this week's show.