Below you'll find the past few Spirit of the West Shows.
These links will open the show in Windows Media Player.
If you don't have Windows Media Player click this link to download it.
Download Windows Media Player
---
The current show - #21433 Weekend of August 16th, 2014: The Spirit of the West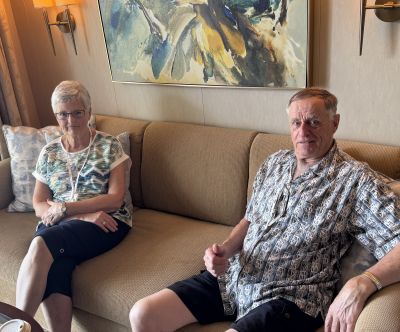 This picture of Hugh riding a beautiful Molly Mule really illustrates
the Classic song of the west you'll hear on this show.

Do horses really care what they look like? Are horses afraid of mules? and why are mules never afraid of horses? You'll get the answers to a bunch of interesting questions, a lot of very listenable music of the west and some entertaining stories on this week's show.
---
Show - #21432 Weekend of August 9th, 2014: Show - #21432

He's known as "rootin' tootin' straight shootin' Mule Ridin' Russ"
Hugh's guest this week Russ Shandro on his great Mule Ruger as we cellebrate
the 25th Anniversary of the Alberta Donkey and Mule Association.

Russ Shandro owner of the famous mule Ruger joins Hugh to share some very entertaining stories about mules he's known and Hugh finds some pretty good songs about those amazing long eared critters to go along with the conversation. This week's classic song of the west was on the hit parade when Hugh was in high school and yes it is about a mule. You can learn a lot and really be entertained by listening to this show.
---
Show - #21431 Weekend of August 2nd, 2014: Show - #21431

These are the boots Dan Made for Hugh 7 years ago when they were knew.
After years of punishiment in the saddle and in the barnyard, Dan had a
huge challenge to restore them and now they're just like new.

There's more to building custom made cowboy boots than most folks ever imagined. This week master boot maker Daniel Gordon joins Hugh to talk about what inspires him and his love for cowboy culture. There's some inside information from a big outfit cowboy crew and some songs to take you out under the big western sky riding the high line on a good horse. Baxter Black offers his solution to rural crime and Hugh explains what NOT to do if you want your horses respect and affection.
---
Show - #21430 Weekend of July 26th, 2014: Show - #21430

Jonathan Field on his famous horse Quincey and Hugh on his not yet
famous horse "Stanley" at the James Creek Ranch having a lot of fun.

Hugh visits with world class horseman Jonathan Field at his James Creek ranch this week. You'll hear how they worked together with horses and riders and how Hugh got the trail ride lost and Jonathan broke the cowboy code. There's some meaningful music that reflects the genuine world of horses, cattle and cowboys along with lots of valuable information.
---
Show - #21429 Weekend of July 19th, 2014: Show - #21429

Billie took this one of the 7-0 Ranch crew helping Hugh & Gord gather
a big mountain pasture. Good hands, good horses and good dogs.

This week Hugh visits with Lori Schmaltz, a ranch wife and MNP's director of Food and Agri Processing. She shares some great stories including the time she hauled a new calf home in the front seat of her car. She'll also have some inspiring examples of the resiliance of farm and ranch couples. There's a terrific look at a classic song of the west with some very rare clips from a couple of legends. Lots of information and another hour of great radio this week.