Below you'll find the past few Spirit of the West Shows.
These links will open the show in Windows Media Player.
If you don't have Windows Media Player click this link to download it.
Download Windows Media Player
---
The current show - #21430 Weekend of July 26th, 2014: The Spirit of the West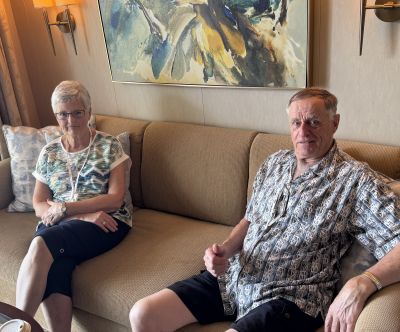 Jonathan Field on his famous horse Quincey and Hugh on his not yet
famous horse "Stanley" at the James Creek Ranch having a lot of fun.

Hugh visits with world class horseman Jonathan Field at his James Creek ranch this week. You'll hear how they worked together with horses and riders and how Hugh got the trail ride lost and Jonathan broke the cowboy code. There's some meaningful music that reflects the genuine world of horses, cattle and cowboys along with lots of valuable information.
---
Show - #21429 Weekend of July 19th, 2014: Show - #21429

Billie took this one of the 7-0 Ranch crew helping Hugh & Gord gather
a big mountain pasture. Good hands, good horses and good dogs.

This week Hugh visits with Lori Schmaltz, a ranch wife and MNP's director of Food and Agri Processing. She shares some great stories including the time she hauled a new calf home in the front seat of her car. She'll also have some inspiring examples of the resiliance of farm and ranch couples. There's a terrific look at a classic song of the west with some very rare clips from a couple of legends. Lots of information and another hour of great radio this week.
---
Show - #21428 Weekend of July 12th, 2014: Show - #21428

Hugh's guest this week, the charming western singer Joni Harms.

Western music super star Joni Harms joins Hugh this week to talk about her latest project an amazing live concert album recorded in Ireland. She shares the surprising story about how it all came together and talks about her life on the family ranch in Oregon. Baxter Black comments on a growing problem for long established ranch and farm families and Hugh helps a rider get in synq with his promising horse. Waddie Mitchell has a memorable piece of cowboy poetry to wrap it all up.
---
Show - #21427 Weekend of July 5th, 2014: Show - #21427

Not bad calves. Billie took this one of a couple of our calves last week.

From cows and bulls running loose in western wear shops to songs that make a statement about the state of country music this week's show has a lot to listen for. Hugh brings up some real life experience to illustrate why doing a job horseback is usually safer than being on foot, and Kent Rollins has an unforgettable piece of cowboy poetry to follow another beautiful classic song of the west.
---
Show - #21426 Weekend of June 28th, 2014: Show - #21426

Kent Rollins, this week's guest. There are lots of great photos
from the McLennan Ranch on this week's Windows Media webcast

Kent Rollins is a chuck wagon cook and he's appeared on every major T.V. Network cooking show on the air. He'll share a lot of great stories from his days growing up on the family ranch and he'll share his passion for cowboy life and ranching traditions. The classic song of the west segment pays tribute to the late Herb Jeffries affectionately known as the Bronze Buckaroo. Hugh discusses the worst advice you can get from folks trying tell you what your horse needs. The music on this show will keeping you hummin' along for the entire ride.