Below you'll find the past few Spirit of the West Shows.
These links will open the show in Windows Media Player.
If you don't have Windows Media Player click this link to download it.
Download Windows Media Player
---
The current show - #21540 Weekend of October 3rd, 2015: The Spirit of the West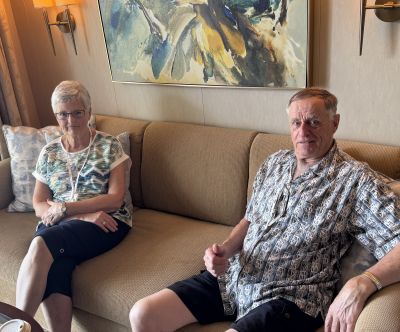 Hugh's guests this week are Dave and Barb Poulsen.

From real ranch cooking to show jumpers and rodeo broncs, Dave and Barb Poulson share some great stories this week. You'll hear some of the best of a crop of new songs of the west, Baxter Black has a moving tribute to horses everywhere and the Rangeland News uncovers some interesting developments in the livestock industry and we'll look at where cattle prices are going this fall.
---
Show - #21539 Weekend of September 26th, 2015: Show - #21539

Hugh's guests this week is Ash Cooper.

Ash Cooper is well known as a rodeo clown & bull fighter, western artist and cartoonist as well as being the host of Cowboy Country TV. This week he shares some rodeo and ranching stories and talks about his art. Hugh describes what a "green-broke" horse should be able to do and plays some wonderful music of the west and Andy Nelson has a fine piece of Cowboy poetry.
---
Show - #21538 Weekend of September 19th, 2015: Show - #21538

One of Hugh's guests this week is Ian Tyson.

Ian Tyson talks about one of his favorite breeds of cattle and has a story about one of his horses and Hugh plays a great song from Ian's latest album. Famous horseman Les Vogt recalls how he learned some of the secrets of the California bridle horse masters, Baxter Black has a controversial commentary and the Rangeland news has more on the Country Of Origin Lableling situation for Canadian imports. There's lots of great listening this week.
---
Show - #21537 Weekend of September 12th, 2015: Show - #21537

Hugh's guest this week is Dick Ardill.

This week Hugh visits with a legend from the Northern Range. Dick Ardill has raised his family, good cattle and horses along the banks of the Peace River and Dick and his wife Irene have received many honors including the living legends award. There's some great new music of the west, helpful horse training advice and an inspiring piece of cowboy poetry as another hour of great radio unfolds.
---
Show - #21536 Weekend of September 5th, 2015: Show - #21536

One of Hugh's guests this week is Dave Perrin.

This week we'll take you all the way back to 2001 and what could be one of the most interesting programs ever ... from the post 911 fallout to the hillarous stories about school teachers wild mules and an alarm in a lunch bucket, great music and great listening this week on TSOW.