2012 Spirit of the West Cruise Diary and Photos

We're starting the count down, and we've started our cruise diary for 2012 - enjoy!

Below is some information on where the 2012 Spirit of the West Cruise is going.
We hope you enjoy the following diary of our trip as we head to Hawaii. See the map below (or scroll down).

We will sail on the Golden Princess - here's what she looks like on the outside.
Below you'll find our basic itinerary and a map of where we are traveling. Go to the Itinerary below (or scroll down).
---
Diary, Spirit of the West Cruise, 2012
You can also see a diary on our support crew, Mark and Kathy McMillan's, web site at www.meadowsprings.com.
The diary and photos on their web site will be different than the ones on this page.
The following photos will all enlarge if you click on them.
---
January 2nd & 3rd

Entering LAX
Spencer - check this one out - there's a guy steering the back axle ...
first glass of wine by the pool
dinner at the Airport Marriott
a misplaced cowboy ?
B & H with Kathy's Aunt in Santa Monica
January 3rd & 4th

This beach looked like it might go all the way to Canada
Billie & Hugh on their way back from the pier in Santa Monica
Hugh welcomes everyone at the welcoming reception
Photos Left to Right
Ed, Eva, John, & Irene Romaniuk
Renate & Bruce Logan and Colleen & Bob Gowans
Mark and Patsy Borle
January 4th

Charlotte and Richard Preston
Terri Mason
Karen and Jim Bell
Anne Ayers, Irene and Peter Golinowski
A beautiful sunset as we pull away from LA
Maddie and Kathy Sagert
January 4th & 5th

Lance and Lori Dyke
Shorty and Sandy Schumacher's 49th anniversary
Look what Billie found ...
A pretty good turn out for our first conference session
Marion Hoffman telling us about Hoffman's minerals
Jim trying to get his Nikon to focus :-)
January 6th

Jim doing a presentation on cruises, which included a video that Hugh made, and the annoucement of where the 2013 Spirit of the West Cruise will be going. It will be a ten day Southern Caribbean cruise on the Emerald Princess from January 15th to January 26th, 2013. It will include a private group tour to Trunk Bay on the Island of St Johns.
January 7th

A little rough for some, but still a whole lot of R & R
Even the Galley had a warning ...
The meals have all been super ... really nice to have our own section
Larry and Linda Morrill from our sponsor, Morand Industries (their 6th cruise)
Peggy and Bob Robinson (their 7th cruise)
Another part of our section in the dining room
January 7th

Bud and Vivian Davies
Happy Birthday Lance
The Spirit of the West Band
Mark with ship staff trying to get a sound system working
A super turn out for a great sing-a-long
Leo Dumont taking a turn singing
January 7th

Everyone gathering for the group photo (see January 13th)
Try and get 110 people in place at the same time
Jasmyn Bibby, Maddie and Kathy Sagert
Hugh & Billie with Eva and Ed Romaniuk
Lorne and Bev Reay with Billie and Hugh
Joan and Everett Patterson
January 7th

Terri Mason and Fern Kornelson
Lining up for our own private galley tour
The chef never saw so many burgundy tee-shirts
Our favourite chef - the pastry chef
Thought this guy might join the next jam session
Mark Borle taking in some of the first sun we've seen
January 8th

Karen bought a new hat and was looking around ...
for Vern Elliott to help her shape it
Hugh and Billie enjoying a really nice warm pool
Jim doing a super presentation on the Parker Ranch
Shorty and Sandy Schumacher
David and Maxine McLeod with Billie and Hugh
January 9th

Everyone gathering in the Atrium to disembark at Hilo
One of two buses heading to the Parker Ranch
The Parker Ranch mall and store in Waimea
Hugh interviewing Keoki Wood (cattle operations manager)
The Parker Ranch Pukalani Stables
Nope no fire - that's the BBQs and our lunch!
January 9th

Everyone getting fed up ... and it was good!
Keoki Wood talking about their cattle operation - a great talk
Anthony Roberts from the Paniolo Preservation Society
Dr Billy Bergin, a retired vet, spoke of cattle health and feed
He seemed pleased to receive a copy of Canadian Cowboy Country magazine
Where in the World is CCC ? ... and it's editor?
January 9th

Wish we had grass like this at home ...
Hugh interviewing Billy Bergin
Everyone got their horse and cattle fix
Some really nice landscape and just a tiny part of the Parker Ranch
Loading up on Jack's Tours to head back to the Golden Princess
Billie showing off her new Parker Ranch dress
January 11th

Our TV star - Bev Reay in the Ukulele class (centre on the TV)
Trolley Market - Hugh, Billie, and Kathy watching the model train
A short walk to a hotel with this spectacular pool
and a great lunch - served in the grass baskets
Hugh catches Mark taking their photo, on his new Camcorder
Across one path a super beach ... we're at Nawiliwili
January 11th

We arrived to find Jim and Karen soaking up the sun
so we joined them ... Karen, Jim, Billie, Hugh, and Kathy
we saw this in the distance and wondered what it was ...
and then Hugh appeared in his mask and snorkel.
These cruisers have been on between 5 and 9 Spirit of the West cruises
Don and Betty Petersen (5), Ed (back) and Diane (front) Peake (8), Bev and Lorne Reay (9), Karen and Jim, Peggy and Bob Robinson (7), and Hugh and Billie.
January 12th

The sunrise as we enter Lahaina Bay on Maui
The whales were playing right behind the ship at breakfast time
A Banyan Tree that is just huge!
Betty and Don Petersen touring Lahaina on foot.
Lots and lots of stores here if you wanted shopping.
The ship in the background and the tenders at the dock - last day on land for a while
January 13th
We got a copy of the group photo today - an 8 X 10 in our mail box (thanks Karen and Jim)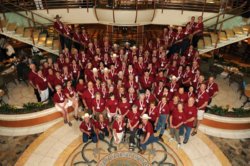 January 13th

Photo shoot with Billie and Hugh ... Peter Golinowski and Ann Ayers
John and Irene Romaniuk figure we should do something special for Ukrainian New Years
Brian and Pat Birchall
Brian and Rhonda Roberts
Ken and Arlene Guzda
Ed and Eva Romaniuk
January 13th & 14th

Larry and Linda Morrill - Sponsor Morand Industries
Richard Preston signs on the dotted line to join us in the Caribbean in 2013!
Happy Hour, formal night, at Billie and Hugh's - seems to be a nightly event :-)
Fern Kornelson and Reg Evans on their way to dinner.
Billie and Hugh stop for a photo shoot with Srdjan (photographer) after dinner
Lynn and Bill Craig at an impromptu jam session that Ed Peake put together
January 14th

"Did someone say jam session?" ... where ?
Hugh, Dave Gibson, Ed Peake and Marg Gibson
Ed found this great little corner outside the Princess Theatre that worked great
for a jam - there was no notice but folks started to show up quickly!
Happy hour on Sponsor appreciation night with the Hoffmans and the Morrills
The sponsor appreciation dinner at Sabatini's - thanks Jim!
January 16th

They say you win on the way, and they take it back on the way home ... Jim would agree
Oh no ... Billie and Kathy found another jewelry sale ...
I like these - what do you think Kathy?
Hugh collecting stories from Marian Hoffman.
and more stories from Jim Simpson
The last pool side jam session ... a cold night but still fun!
January 17th

Hugh tries to get an interview from this very uncooperative Vaquero
The farewell reception was up on the Skywalkers Lounge - beautiful views.
Billie draws the first name - for a Morand Industries gift certificate
and the winner is ... Shirley Bryant !!
and second Morand Industries gift certificate ...
goes to .... Mary Hansen!! Thanks Linda and Larry!
January 17th

Terri Mason was the first name drawn for some Hoffman's Horse Minerals.
Mary Bodnaruk was second but donated it back to draw again - thanks Mary!
then we had Sherry Simpson
and Louise Velichka
and Dave Gibson
and Shirley Ellis. Thanks Marian and Lorne!
January 17th

The following all won $100 vouchures from Cruise Vacations towards a future cruise ...
Colleen Gowans
Brian Birchall
Fern Cornelson
and Harold Therriault ... Thanks Jim and Karen!
Irene Romaniuk won the Spirit of the West vest!!
The last photo is from the reception looking out at Ensenada, Mexico as we pull into the harbour.
January 17th

"Senorita, I have been waiting all day in the cold for you to buy something ..."
Some pretty cool Longhorn skulls.
Enjoying a sunset as we prepare to board one final time :-(
Bev Reay, front and centre at the final show in the Princess Theatre
Fern, Bev, and Terri were all part of the passenger talent show on the final night as
they had all been part of the Ukulele classes on the ship. In the morning we dock in LA and back to reality ...

January 18th we docked in LA at about 7:00am and disembarked at about 8:30. All in all a very enjoyable and relaxing cruise with a ton of compliments from a lot of happy people! There were numerous folks in our group that have already said that they'll be joining us next year. It'll be the 12th Annual Spirit of the West Cruise! We'll be aboard the Emerald Princess as it sails from Ft Lauderdale to visit six different exotic Caribbean islands from January 15th to 26th, 2013. See the details on the Cruise page.
Our Itinerary! Top of Page

3 prior

January 1st - Happy New Year everyone!

2 prior

January 2nd - Early morning we head to the airport - 7:00 am flight to Calgary, change planes and fly to LA - arrive at noon and check in to Airport Marriott.

1 prior

January 3rd - We get an extra day in LA ... laze around the Airport Marriott and start holiday mode!

Day 1

January 4th Spend the day in LA and board the Golden Princess between 1:00 pm and 3:00pm. We sail at 4:00pm. 4:15 to 5:15pm is the Spirit of the West Welcome Reception in the Explorers Lounge.

Day 2

January 5th First day at sea. 9:00 to 10:00am meeting in Vista Lounge - Hoffman's Horse Ration and Jim Bell World Wide Cruise Vacations presentations and past passenger awards. 9:00 to 10:00pm first group sing-a-long under the stars.

Day 3

January 6th Second day at sea. 9:00 to 10:00am meeting in Vista Lounge - Larry Morrill of Morand Industries, and Jim Bell, Parker Ranch presentations.

Day 4

January 7th Third day at sea. Pool day!!

Day 5

January 8th Forth day at sea. Another pool day!! 9:00 to 10:00pm second group sing-a-long under the stars.

Day 6

January 9th Arrive Hilo, Hawaii at 9:00am. Spirit of the West private tour to the Parker Ranch.

Day 7

January 10th Arrive Honolulu, Hawaii at 7:00am. Beach day ... or excursions. Set sail 11:00pm.

Day 8

January 11th Arrive Kauai, Hawaii at 8:00am. Beach day ... or excursions. Set sail 5:00pm.

Day 9

January 12th Arrive Maui, Hawaii at 7:00am. Beach day ... or excursions. Set sail 6:00pm.

Day 10

January 13th At sea - 9:00 to 10:00pm group gathering.

Day 11

January 14th At sea. Pool day!

Day 12

January 15th At sea. Pool day!

Day 13

January 16th At sea. Pool day! 9:00 to 10:00pm group sing-a-long under the stars.

Day 14

January 17th Arrive Ensenada, Mexico 4:00pm. 3:30 to 4:30pm farewell reception. Set sail 8:00pm.

Day 15

January 18th Arrive LA 7:00am. Disembark Golden Princess and head to airport. Fly LA (1:00pm) - Calgary - Kamloops (arrive 8:00pm)

Top of Page

Here's a route map showing all six of our stops.
The number on the map refers to the day in the itinerary. Click to enlarge.
You can also see a diary on our support crew, Mark and Kathy McMillan's, web site
at www.meadowsprings.com. The diary and photos on their web site will be different than the ones on this page.

Top of Page